And the Winner Is… We Look at Quivers' Prized New Features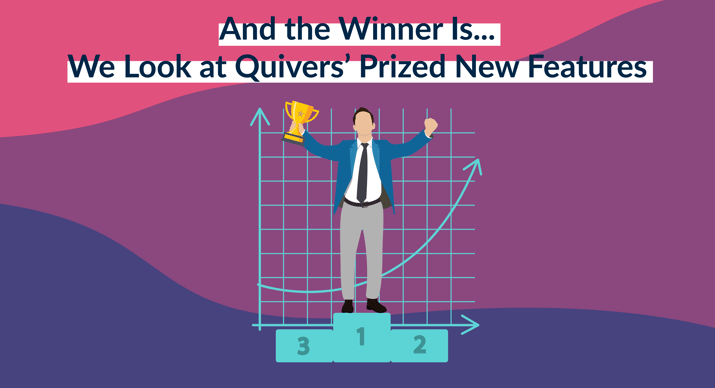 It's award show season and we'd like to welcome you to the red carpet. Quivers has been keeping its nose to the grindstone, culminating in the release of two highly rated new features — and we've heard through the grapevine that they're set to win big!
We'll keep this short and sweet, there won't be rambling speeches and "play-off" music to usher these stars from the stage. Without further ado, let's introduce our first winner…
The Consumer Magnet Award
In a world where 26% of consumers abandon their cart when the checkout process is too long or complicated, Quivers' One Touch Checkout gives you a resounding victory. This streamlined payment solution simplifies the checkout process and placates impatient consumers before they have the chance to jump ship.
One Touch Checkout replaces Quivers' old credit card checkout system with a modern user interface. This show-stopping UI includes support for Link, which allows for the easy verification of repeat purchases through SMS without the need to re-enter card details. What's more, consumers with existing Link accounts from other websites can use One Touch Checkout — even if they've never purchased from Quivers before.
This update also makes paying with Google Pay or Apple Pay simpler than ever. Modern consumers value convenience, and 73% of them say most of their purchases tend to be spontaneous. But how can shoppers be spontaneous when they have to go through a laborious checkout process? With Quivers' One Touch Checkout, you remove a significant friction point and give consumers no chance to second guess a purchase.
We're confident that by using One Touch Checkout you'll soon see a strong increase in conversion rates for returning consumers, plus higher order volume and revenue.
One Touch Checkout can also be paired with one of last year's big releases, Quivers Pay Later. Our user-friendly Buy Now, Pay Later (BNPL) option is a real crowd-pleaser and could give you a 30-50% increase in average order volume.
The Conversion Booster Award
Save the drumroll, this one is a dead cert. Quivers' Back-in-Stock Notifications are our exquisitely simple solution to stockouts.
How does it work? Just like you'd expect it to — consumers can sign up for an email notification when a product comes back into stock.
But what makes it stand apart from the competition? While a standard back-in-stock notification only tells consumers when you've personally re-stocked a product, Quivers leverages the power of your commerce ecosystem to alert consumers when the product is available from any of your retail partners.
Standard back-in-stock notifications can land you a conversion rate of 22.45%. With Quivers' omnichannel connection in tow, this number should be even higher. Quivers' Back-in-Stock Notifications ensure your products will be available again faster than ever before, meaning consumers won't have a chance to be swayed by your competitors.
Both of these award-winning features are now immediately available and automatically enabled for all Quivers HoverCart customers.
Skip the Speeches, Our Commerce Solutions Will Leave You Speechless
While we'd love to take a moment to thank our hardworking team, let's forget about the speeches, glitz and glamor for a second. It's really quite simple: For your specialty brand and its consumers to win big, you need Quivers' Omnichannel Toolkit. Our software powers omnichannel sales and in-demand fulfillment experiences, thereby improving the consumer experience, eliminating channel conflict and giving you an incredible return on investment.
Request a demo and we'll show you how we make the magic happen.