Abandon Cart? A Guide to Sailing the 7 Seas of Commerce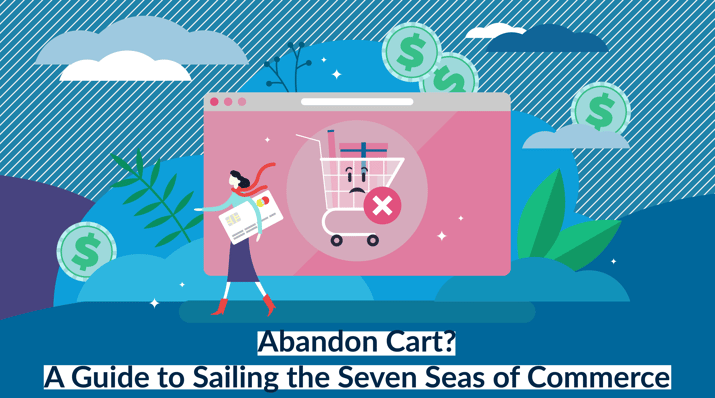 The world of commerce isn't smooth sailing. You work hard to make your ship — or website — seaworthy, before attempting to navigate the unpredictable world around you. Regardless of the confidence you have in your site, powerful currents and sweeping winds can take you off course.
Still, you've managed to welcome some valuable crewmates onboard — consumers who are interested enough in your products to add them to the cart. You expect them to complete their purchase but if your checkout experience isn't up to scratch, they'll soon abandon ship.
The Abandoned Cart Predicament
Cart abandonment has a huge impact on your top line, with a global average of 75.6% of carts being abandoned. Landlubbers won't be surprised to hear that businesses offering cruise and ferry travel see the highest rates of abandonment, but the retail industry's 71.24% rate is nothing to turn your nose up at.
The question is, why do so many shoppers leave you high and dry?
Why Do Consumers Abandon Carts?
While cart abandonment might have you saying "arrrrr," there aren't any plundering pirates to blame here. In fact, you're losing your own fire in the hole by not making smart decisions.
There are countless reasons a consumer might have for abandoning a cart, but let's get started with some of the more common ones.
Too Many Steps
Simplicity is king. If your checkout process involves five steps, remember that each additional step pushes consumers closer to stepping away entirely.
Don't give them time to second-guess their purchases, give them a simple checkout experience that puts the wind in their sails — and boosts your sales.
Sluggish Loading Times
A startling 57% of shoppers will leave a webpage if it doesn't load in three seconds. If that's not bad enough news already, 80% of them will never set foot on your site again.
It's important to run a tight ship: if your site is difficult to navigate, consumers will head straight for your competitors.
Disappointing Delivery Options
Delivery, or, ahem, shipping, is one thing you have to get right. The modern consumer expects speed, efficiency and value for money.
If your shipping prices are too high, 44% of shoppers will set sail. And if you're not providing them with enough information, 22% will also abandon cart.
In recent times, the number of different fulfillment options has shot up. If you're not offering the exact type of delivery your consumers are looking for, 50% will abandon their carts and 60% of these shoppers will snare a similar product elsewhere.
Unsatisfactory Payment Options
PayPal, Google Pay™️, Apple Pay®️… the list goes on. Long gone are the days of gold and silver coins, today's consumer expects a variety of modern payment options.
Buy Now, Pay Later (BNPL) services are now so in demand that 50% of consumers have used one, and 39% of those who haven't say they will in the next six months. As well as increasing conversions and average order value, offering a BNPL service can reduce cart abandonment.
How Do You Reduce Cart Abandonment?
A less experienced sailor may attempt to plug all of the holes in the ship, one by one. We've got a better idea.
Quivers' sophisticated DTC toolkit covers all bases. Quivers HoverCart is a world-class online shopping cart that lets you add a lightweight "Add to Cart" button next to your products. HoverCart functions as a simple overlay, meaning it can coexist with your existing plugins and isn't going to slow your webpage down. As well as boosting conversions, HoverCart reduces cart abandonment by as much as 30%.
Modern consumers demand modern delivery options, and Quivers has them all. 67% of consumers have used Buy Online, Pick Up In-Store (BOPIS) in the last six months, and 50% say they decide where to shop online based on whether they can pick up in-store. Give them what they want with Quivers BOPIS, our customizable fulfillment option for specialty brands. And that's just one of our treasures — catch the eye of consumers with some of our other in-demand fulfillment options like White Glove Delivery and Ship-from-Store.
But what about payment? Quivers Pay offers PayPal, Google Pay™️ and Apple Pay®️ payment processing and lets you accept payments anywhere, in all major currencies, without requiring a local presence. If you're looking to reel in shoppers who prefer to use a BNPL option, you'll be happy to hear we've recently launched the conversion-clinching Quivers Pay Later.
Sometimes it feels like you're cursed to suffer from abandoned carts, but remember, the ship hasn't sailed yet. Drop anchor with Quivers and reduce cart abandonment by as much as 30%. To learn more, drop us a line here.