Fully Equipped: Take a Look Inside the Quivers Toolbox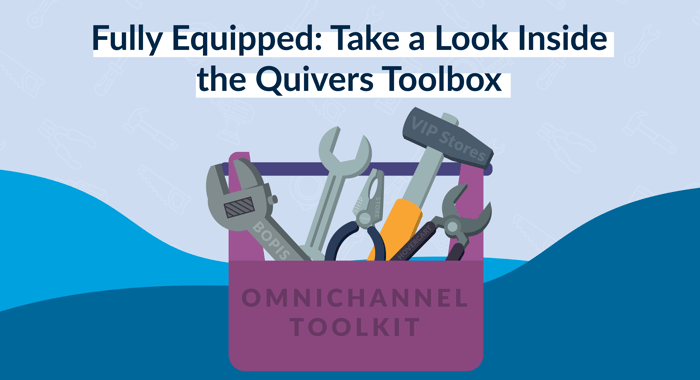 Over 90% of consumers expect brands to offer an omnichannel experience. This means if your brand isn't providing one, you could be in trouble.
Specialty brands are tripping over themselves trying to get a slice of the omnichannel pie, and who can blame them: The omnichannel shopper makes purchases 70% more often and spends about 34% more than consumers who shop exclusively in stores.
In the rush to "go omnichannel" many brands are neglecting to properly consider strategy. While the merits of Doing It Yourself are clear, if you don't have the right tools you're facing an uphill battle.
Some good news? The Quivers Omnichannel Toolkit contains all of the sophisticated tools you need to really nail omnichannel. And you can get started without tearing everything down first: Quivers requires neither significant investment nor changes to operations to take your brand into the 21st century with a world-class omnichannel experience.
Let us take this opportunity to tell you about what we're packing in our toolbox…
The Combination Wrench:

Buy Online, Pick Up In-Store (BOPIS)
Every self-respecting handyman has a wrench in their toolbox, just as every brand should offer BOPIS as a fulfillment option. But why is BOPIS so essential? Well for a start, because 75% of consumers use it.
Like a combination wrench, Quivers BOPIS skilfully brings together different components — in this case, your brand's website and your retail partners — to produce a complete, revenue-raising solution. It's as simple as converting sales on your website and directing consumers in-store to collect orders.
Quivers BOPIS can be extremely profitable for brands and retailers: 67% of BOPIS shoppers add additional items to their carts when they know they can pick them up immediately, and 85% of those using BOPIS make unplanned in-store purchases.
The Pliers:

Ship-from-Store
From the supply chain crisis to rampant overstocking, the last few years have brought about a host of inventory challenges for specialty brands and retailers.
While there's no quick fix, 35% of retail executives say an omnichannel strategy has helped them to improve inventory optimization. Quivers Ship-from-Store should be part of your omnichannel strategy. Like a reliable pair of pliers, Ship-from-Store shapes your retailers into key fulfillment partners and gives your brand a stronger grip on inventory.
By using Ship-from-Store, you can save on costs and minimize out-of-stocks while providing your retailers with another sales channel and the chance to de-risk inventory.
The Precision Screwdriver:

White Glove Delivery
Due to size, weight or fragility, some items require special attention during shipping. In a world where over 85% of consumers take their business elsewhere after a bad delivery experience, it's worth erring on the side of caution.
A handyman might reach for their precision screwdriver for jobs that require a delicate touch, but with order fulfillment, you can't go wrong with Quivers White Glove Delivery.
White Glove Delivery leverages the expertise of partnering retailers to provide a premium delivery service that often includes setup, assembly, and installation. By significantly reducing the likelihood of last-mile damage to products and ensuring orders make it into consumers' homes, White Glove Delivery minimizes expensive returns and porch piracy.
The Hammer:

VIP Stores
Think of a VIP or pro program like a nail: a sharp one can drive through the market and hold your brand and consumers closer together, but handling one incorrectly can have painful consequences.
Quivers VIP Stores — the hammer of our toolkit — gives you full power and control over your pro programs. These programs have the potential to be incredibly lucrative, so it's important that you have the right tool to make sure their full force is felt.
VIP Stores has given top brands like Rossignol the precision and accuracy necessary to launch pro programs and significantly increase revenue.
The Level:

Ambassador Relationship Management (ARM)
While hammering away at a pro program can get results, it's essential to maintain an accurate read on the situation.
Quivers Ambassador Relationship Management (ARM) is Quivers' very-own level tool. It tracks the impact and return on investment (ROI) of ambassadors, pros, and influencers, and even provides a leaderboard to show you who's bubbling to the top.
ARM empowers you to monetize the influencer channel, make better decisions and keep your pro programs in line.
The Box Cutter:

HoverCart
Did you know that 88% of consumers want to buy directly on a brand's website? If you don't already have your full product catalog available for purchase online, that should be at the top of your to-do list.
Quivers HoverCart is a world-class shopping cart, but like a box cutter, it's also a lightweight, compact and incisive tool.
With the sheer breadth of platforms and plugins available, it's no surprise that incompatibility plagues the world of ecommerce. HoverCart easily cuts through any compatibility issues and makes it easy for you to sell online without changing the look and feel of your website.
The Tape Measure:

Dealer Locator
Standard product locators come with a very real risk. Half of all consumers who are directed in-store from a brand's website without completing the purchase online, ultimately go on to buy a competitor's product from the retailer.
So, what makes Quivers Dealer Locator the tape measure of our toolkit? Well, it provides a simple solution to a simple problem, and it helps consumers find which store is the right fit. By encouraging online purchase completion, Dealer Locator eliminates the risk of your consumers getting distracted by your competitors' products in-store.
This game-changing map view widget can be embedded or used as an overlay on your website. Whichever way you use it, Dealer Locator measures up as an essential commerce tool.
The Power Drill:

Quivers Pay
You might be wondering how a payment processing gateway can be a power drill. Let us explain.
Quivers Pay requires minimal manual effort for you to process credit and debit card payments. It's quick to set up, incredibly efficient, and it makes payments simple and secure for you and your consumers.
Drills can be fitted with different drill bits depending on the job. Quivers Pay is just as adaptable:
It lets you accept payments from anywhere in the world, in all major currencies, without requiring a local presence.
It covers 100% of the value of any fraudulent orders.

It

supports popular payment processing options like PayPal, Google Pay™️ and Apple Pay®️.
The Quivers Omnichannel Toolkit
If you're still doubting whether you need to go omnichannel, consider this. Offering a robust omnichannel experience can boost revenue by 20%, and a strong strategy can multiply ROI by 3.4x.
If you're working out the best way to go omnichannel, you've come to the right place.
Our toolbox is a deep one — we've barely scratched the surface of what Quivers can do, and why the Quivers Omnichannel Toolkit is the definitive commerce software for specialty brands and retailers.
See our tools in action! View The Complete Guide to Omnichannel Fulfillment eBook or check out the Omnichannel Toolkit Infographic for more information.