NAMM: Quivers Has Joined the Band!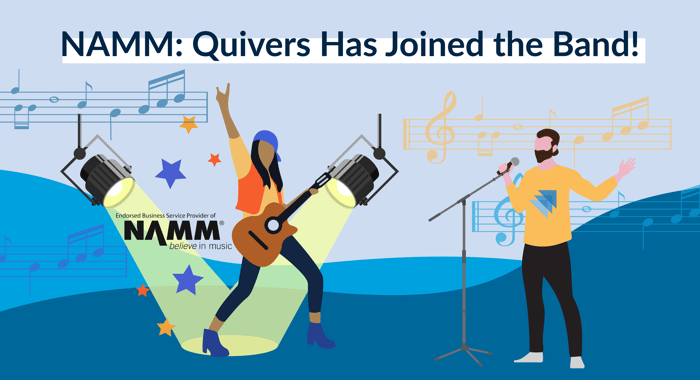 Drumroll please…
We're delighted to announce that Quivers is now a NAMM Endorsed Service Provider!
The music industry isn't the only thing that's changed since the turn of the century. The ecommerce boom sparked a seismic shift in consumer behavior, and online shopping continues to go from strength to strength. That doesn't mean brick-and-mortar is going to hang up its boots anytime soon — retail stores continue to chart well with shoppers.
What does this all mean? It means a hybrid — or omnichannel — strategy is your best bet to stay ahead of the curve: Almost 90% of retail leaders agree a seamless omnichannel strategy is critical to business success.
There are fewer and fewer reasons to go solo: Omnichannel is already the primary buying method for 27% of consumers. The good news for you? NAMM has identified the Quivers Omnichannel Toolkit as the key tool for bringing your commerce operations up to speed — and your brand into the 21st century.
Quivers: Your Omnichannel Solution
Quivers is the leading Omnichannel Toolkit for specialty brands and retailers. With over a decade of experience in the game, it's no surprise we have a few rave reviews under our belt.
You could say that collaboration is in our DNA: our toolkit empowers brands to offer a variety of in-demand fulfillment options through their websites by leveraging independent retailers for fulfillment. This means everyone's a winner: There are fewer stockouts, brands and retailers boost sales and eliminate channel conflict, and consumers have the fulfillment options they desire.
Just the Facts, NAMM
The National Association of Music Merchants, or NAMM for short, is the world's largest trade association for the music products industry, representing more than 10,000 retailers, manufacturers and distributors. While bigger doesn't always mean better, in this case, you should definitely believe the hype.
NAMM is dedicated to promoting and advancing the interests of its members by providing them with the resources and tools they need to succeed in an ever-changing industry. Every year NAMM presents its headlining "The NAMM Show," a trade-only business exhibition where attendees get to experience the latest products from across music, sound and event technology.
In advance of this year's star-studded event (April 13–15, Anaheim Convention Center, CA), NAMM has announced Quivers as an Endorsed Service Provider. While some may think this is in recognition of our team members' impressive guitar solos, it's actually for meeting NAMM's rigorous standards of innovation, service and support.
We're itching with anticipation to get on the tour bus to California. This won't be our first NAMM, but it will be our debut as an Endorsed Service Provider. We can't wait to show off our cutting-edge omnichannel solutions and we're also looking forward to talking shop with other attendees and hearing all about the latest industry developments.
It's a Celebration
At Quivers, we're passionate about music and committed to helping music brands connect with their audience. Our Omnichannel Toolkit is trusted by top brands like DW, Zildjian, Pearl, and many others to provide in-demand fulfillment options, take control of inventory and supercharge sales.
But how exactly are we celebrating our unveiling as an Endorsed Service Provider? Perhaps not in the most rock and roll way possible, but in a manner that honors the spirit of collaboration — by inviting others to join our band.
In appreciation of our recognition as a NAMM Endorsed Service Provider, we're giving all NAMM members a special discount and some exclusive perks.
To learn more about our collaboration with NAMM, and to see how Quivers could deliver your next big hit, read our press release or visit our dedicated page for NAMM members today.